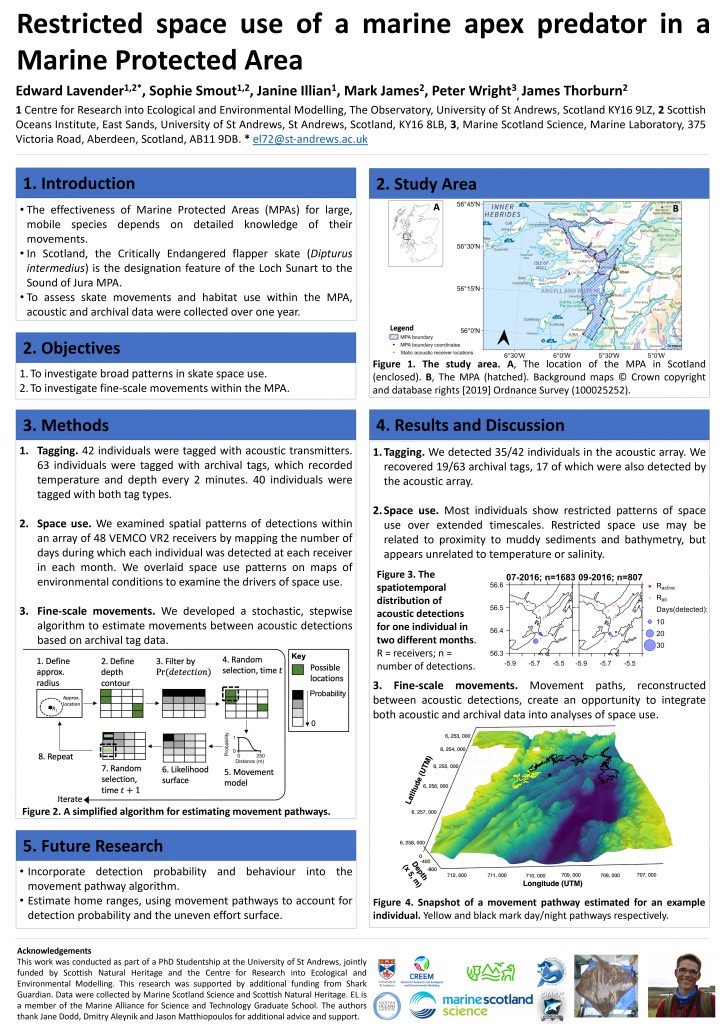 PhD student, Edward Lavender, recently presented some of his surprising early findings about the detection patterns of Critically Endangered flapper skate within an array of static acoustic receivers in a Scottish Marine Protected Area at the 5th International Conference on Fish Telemetry, Arendal, Norway (June 2019).
Tagged skate were almost entirely detected around a small set of receivers in the south of the Marine Protected Area. But is this really where they 'like' to be? And does this mean their movements are restricted?
Unfortunately, detections at acoustic receivers represent an unknown combination of animal movement, the spatiotemporal distribution of receivers (i.e. sampling effort) and detection probability. For flapper skate within a highly non-uniformly distributed receiver array, this means that detection patterns, alone, tell us very little about space use. Fortunately, however, high resolution depth data were collected alongside acoustic data for some individuals. In addition, skate are bottom dwelling and, off the West coast of Scotland, live in a bathymetrically heterogeneous environment. This raises the enticing possibility of estimating movement pathways between acoustic detections using depth data as a way of circumventing these challenges to address the questions posed above.

At the conference, Edward presented the first version of such an algorithm, creating the opportunity to study the movement patterns and space use of demersal species within similar systems in a way which isn't so constrained by the design of the receiver array and at higher spatial (5 m) and temporal (2 minute) resolutions than previously possible. For the flapper skate specifically, Ed's research opens new doors to investigate their movements in relation to the Marine Protected Area.

The International Conference on Fish Telemetry is a forum to discuss research on the application of tagging technologies to study fish biology. This year, researchers from over 20 countries came to Arendal – a small municipality in the far south of Norway – to give posters, presentations, meet colleagues and extend the boundaries of knowledge.
This context, set within a spectacular Nordic fjordic system, fostered an atmosphere buzzing with ideas, excitement and discussions spanning the conservation physiology of Atlantic salmon and spatial management of threatened elasmobranch populations to cutting-edge model development, open data and more.

Edward Lavender is grateful to Shark Guardian for supporting this research and his attendance at the conference.
If you would like a copy of the poster or more information please contact Edward.